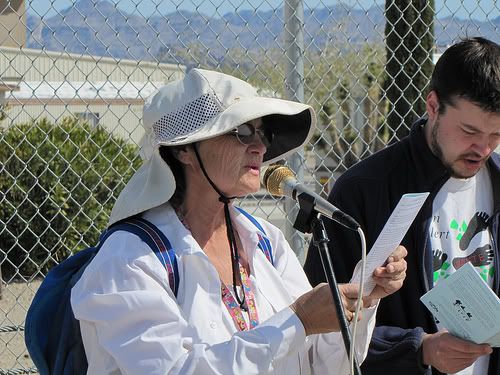 We met Billie Jean James during the weekly Peace Vigil in front of the Las Vegas Federal Courthouse, where she used to come to nearly every week. She also went with us to the Good Friday Vigil at Creech Airforce Base during the Sacred Peace Walk.
See here the photos of her in bright white. We have gotten to know her as a warm-hearted person who was dedicated to people and nature, to life. We heard about her going missing while we were still in the Nevada Desert Experience Office. All of the people there were shocked about what could have happened to her.
We learned today by chance that she was found. We remember her as a beautiful person. We wish her family and friends strength in these sad times.
André and Annabelle
NDE/Sacred Peace Walk/Dronewatch Blog
Please also read what the Friends of
Nevada Wilderness
wrote about her, and the letter in the
Las Vegas Sun
.